GAMETIME STADIUM RED™
Game Time Red™ is a unique blend of particles that have been designed to enhance the stability of an infield and provides a rich, red color that adds focus and contrast to the ground balls. The product gives the infield that professional look all coaches and players dream to play on. It is exceptional as both a Top Dressing and a Soil Conditioner.
BENEFITS
Rich burgundy red color.
Has same characteristics as our other GameTime calcined clay conditioners.
Provide a safer playing surface.
Reduce compaction.
Control moisture – you get fewer rainouts.
Can be used daily as an infield top dressing.
Helps create the ideal amount of fluff on top to allow for firm footing but true hops.
APPLICATION
Moisten skin area to loosen surface. Rototill the clay areas to a 4" depth.
Spread Louisville Slugger™ Game Time Red™ over the infield, concentrating on the traffic and problem areas. For a 90' field, spread 8 tons/320 bags approximately 3'-4' apart on your infield. Use 6 tons / 240 bags for a 60' field. Use a Drag Mat and drag in long, counter-clockwise sweeps between the bases. Once this is complete, Rototill to a 1 1/2" depth and drag to a finished playing surface.
2.25 tons will cover 1,000 sq. ft. at a depth of 1" (1.3 yards/ton).
RECOMMENDED USE
Baseball – Softball – Parks & Recreation – Youth Leagues
AVAILABLE IN
FOB: TN
50lb bags / 40 bags per pallet / 22 pallets for 880 bag total per truck load
Bulk (24 ton max)
Super Sacks (2,000lbs)
Mix and match with infield conditioners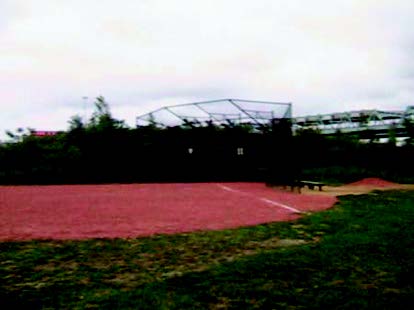 How To Properly Line A Baseball Field Field